Top Hacking Simulator Games Every Aspiring Hacker Should Play: Part 2
Top Hacking Simulator Games Every Aspiring Hacker Should Play: Part 2. 
Welcome back to our Top Hacking Simulator Games Every Hacker Should Play. For part two we'll focus on some more highly acclaimed hacking games, chosen by players, for players. We try to pick the simulator games most popular with the player base, but also games we think our readers will enjoy.
Most avid hacking simulator games fans want a game that pushes their technical skills and knowledge, providing a challenge, but also a game that is fun and engaging with a versatile style of play. If you're following this list you are sure to find something the piques your interest no matter what your skill level.
It is also a goal of ours to cater to aspiring hackers of all levels. After all, even the most seasoned hackers and penetration testers started somewhere, and we want to create an environment inclusive of those learning and finding their feet industry through simulator games.
Hacknet has become a very popular hacking game since it came on the market three years ago and has now been played by over 1.4 million people. The game is a highly immersive terminal-based hack simulator for PC.
The game takes you on a journey through the instructions of a recently deceased hacker. The Hacker left instructions before he died under suspicious circumstances. As you delve deeper into the game there are mysteries to solve and secrets to explore as you hack your way through the unraveling story.
The hacker game prides itself on providing a real-world hacking experience, not a Hollywood style hacking mission. The game uses actual UNIX commands which adds to this. Major themes in the game are the nature of personal privacy and the prevalence of corporate greed.
This game is very, very good. On the surface it seems like a hacking game somewhat in the style of games like Uplink, but with a huge amount of polish. However, when you actually get in to it, it's better described as a really clever puzzle game with a very compelling story
You can find out more or buy the game here.
PicoCTF is a computer security game that consists of a series of challenges set around an immersive storyline, and even better, its free! The game says its targeted at middle and high school students, and only over 13s are eligible to play.
The website runs annual hacking competitions so you can test your skills, unfortunately, the 2018 competition has just ended, but you can sharpen your hacking skills in time for 2019. If you are in the age group eligible to apply, the prizes are also impressive, first prize is $5000, second prize is $2500, the prize money continues to decrease, but even those who come in 6th-10th place get $250.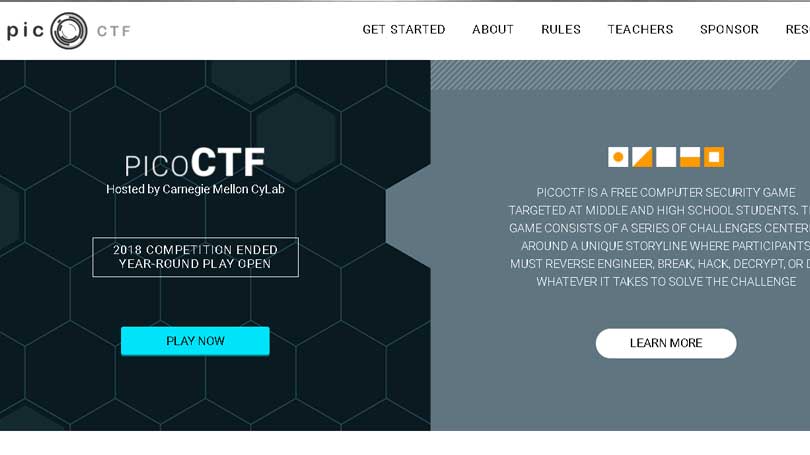 It was a lot of intense programming…but the end result was amazing.
This hacking simulator game, unlike most of the others on the list, is aimed at complete beginners. This hacker game is for those of you who have always wanted to try hacking or a hacker game but fear you lack the technical skills, this simulator game should help bridge the gap. The Bandit Wargame has 34 levels and you start at level 0, working your way up through the levels by completing challenges.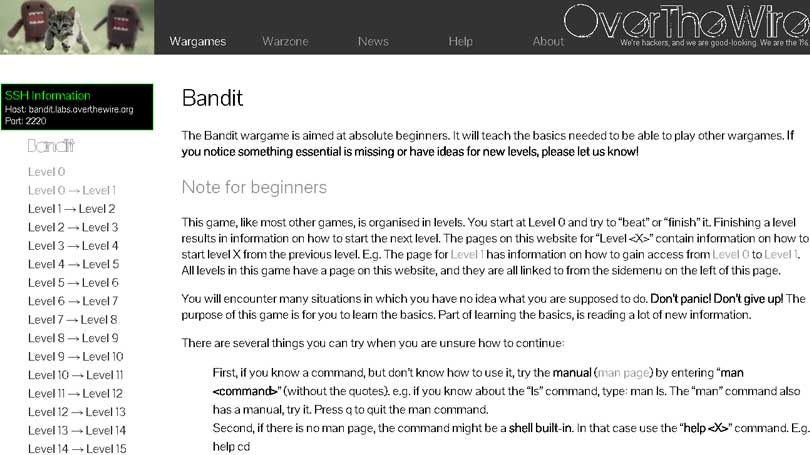 There is a fair amount of learning involved in this game, in order to raise your skill level significantly through the game. On the site for the game it says:
You will encounter many situations in which you have no idea what you are supposed to do. Don't panic! Don't give up! The purpose of this game is for you to learn the basics. Part of learning the basics, is reading a lot of new information.
Although there is a learning curve, there's also lots of help along the way and it encourages you to use Google if you get really stuck. This hack simulator is also free and really is an excellent resource for hackers just starting out on their hacking journey.
RingZer0 Team's online CTF offers you tons of challenges designed to test and improve your hacking skills through hacking challenges. As you complete challenges you can move your way through the rankings against other users also completing the challenges. If you need help or fancy a bit of socialising, you can also join the games Slack channel. For those of you who don't know, Slack is a cloud-based collaboration tool, that offers chatrooms, private groups and direct messaging.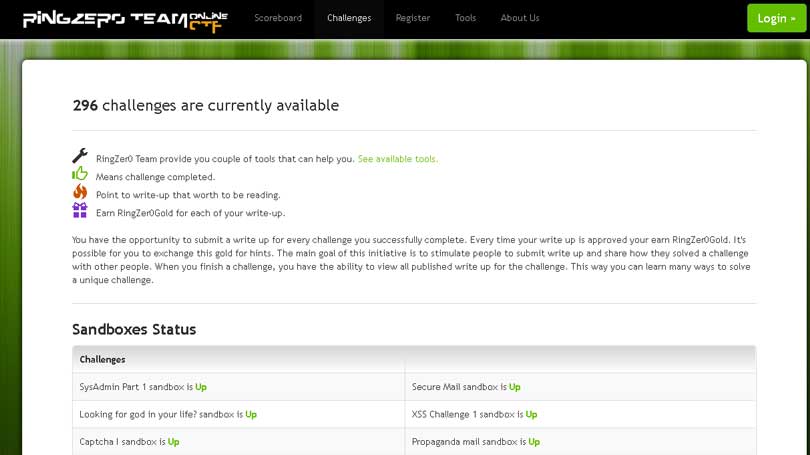 The hacking simulation games and challenges are free to play, but the developer does ask that you consider donating to the website if you like the content. If you donate your name appears on a list of users that have contributed to the site, allowing it to purchase new hardware and create more challenges and simulator games.
The developer started the game in his garage
I started this website in 2014 hosting everything in my garage (Picture here).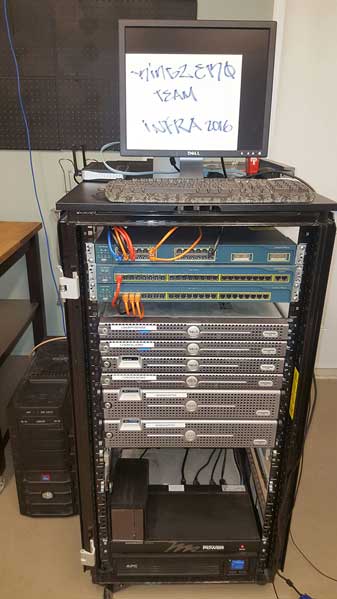 If you enjoy the simulator games and play regularly, you can even get certified. The site says:
Super simple get at least 1000 points and you will receive your official badge and certification. The RingZer0 Certified Elite Hacker (RCEH) certification is a highly technical certification. Anyone holding the RCEH title is a highly skilled hacker.
So that concludes part 2 of our Top Hacking Simulator Games Every Aspiring Hacker Should Play. We hope you've found the game that you're looking for, whether you're looking for a hacking game that feels like you're hacking in the movies, are a more realistic hacking experience similar to penetration testing in a real-world setting.
Although these hacker games are meant to be fun and entertaining ways to enjoy yourself in your downtime, there's still heavy elements of technical skills involved in the games that should help sharpen your skills and help you think like a hacker.
We try to pick the top games, so part 3 will come along when we feel we have the best content to show our readers, stay tuned.