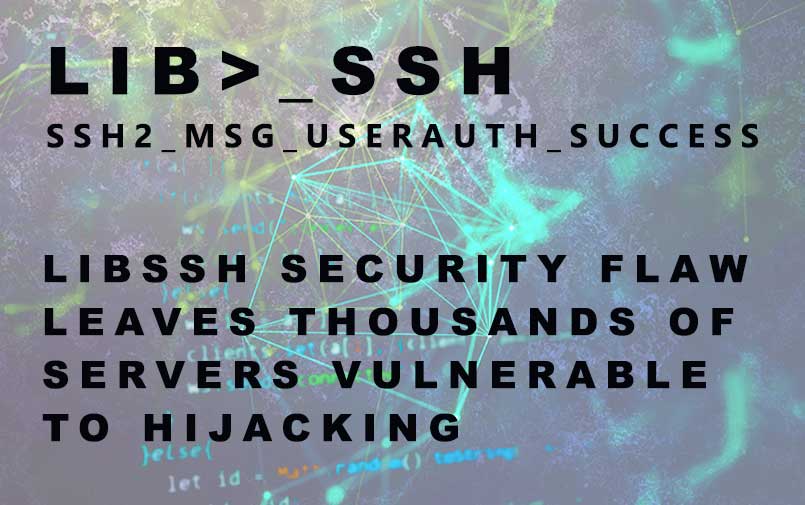 Libssh Security Flaw leaves thousands of servers vulnerable to hijacking. A security flaw in libssh leaves thousands, and potentially more, servers vulnerable to an attack. Libssh is a multiplatform C library which allows users to remotely execute programs, transfer files, manage public keys and use a secure and transparent tunnel.
The security flaw, discovered by Peter Winter-Smith from NCC Group, allows a hacker to bypass the authentication process on the servers and gain access to the system without having to enter a password.
An attacker can do this by sending the SSH server "SSH2_MSG_USERAUTH_SUCCESS" message instead of the "SSH2_MSG_USERAUTH_REQUEST" message that a server usually expects and which libssh uses as a sign that an authentication procedure needs to initiate.
The libssh system will treat this message to mean the authentication has already taken place and allow the attacker access to the server. The flaw (CVE-2018-10933) was released in January 2014 in release 0.6.0.
It's estimated that the vulnerability currently affects at least 3000 servers, however this is based on a small search and the scale of the problem is not yet known. There were concerns that the popular version control site for developers to work collaboratively on projects, GitHub, was affected but they have released a statement denying this. Github claims the way they use libssh means they are not vulnerable to this exploit.
"We use a custom version of libssh; SSH2_MSG_USERAUTH_SUCCESS with the libssh server is not relied upon for pubkey-based auth, which is what we use the library for,"

a GitHub security official said on twitter
While we use libssh, we can confirm that https://t.co/0iKPk21RVu and GitHub Enterprise are unaffected by CVE-2018-10933 due to how we use the library.

— GitHub Security (@GitHubSecurity) October 16, 2018
The security flaw is only on the server side, meaning users who have a libssh based SSH client installed on their computer will be safe from potential attackers looking to exploit this vulnerability.
While there are currently no public exploits available for the vulnerability, they are easy to put together so these are likely to pop up online in the coming days and weeks.
The team at libssh released versions 0.8.4 and 0.7.6 yesterday to handle this bug.