Underwater gadgets and drones.There's an unending mystery to the great deep, the majority of the ocean remains unexplored and as technology advances, more and more people are wanting a piece of this mystery.
There are some high tech drones out there, wandering our seas, responsible for mapping the ocean floor, finding long lost wrecks, or discovering and tracking new sealife never seen before, or long considered extinct. When it comes to affordable, commercial underwater cameras and drones, the accessible technology has come a long way.
While you won't be able to go to the bottom of the Marianas Trench, and why would you (scary!), you can capture some impressive sealife on camera, and going at a decent speed. These products are great if you're into scuba diving, snorkelling, surfing, or if you're a general water dweller who wants to capture your favourite moments on screen.
This scooter allows you to glide through the water at 3.35mph, taking in all of the breathtaking underwater views in a fun and exhilarating way. The scooter is engineered to be lightweight and stylish making it easy to carry around and also a great conversation starter. There's a built-in mount where you can put a camera to capture photo and video of your underwater exploits. This scooter is perfect for people who are adventure junkies and scuba divers.
When diving there can often be a long swim to your dive site, having a scooter can considerably reduce your travel time, as well as allowing you to conserve your energy for exploring when you reach the site. Underwater scooters also mean you can use less air from your tanks since you are pulled through the water, rather than swimming which increases your breathing rate, Let's have a look at the details and specs on this scooter: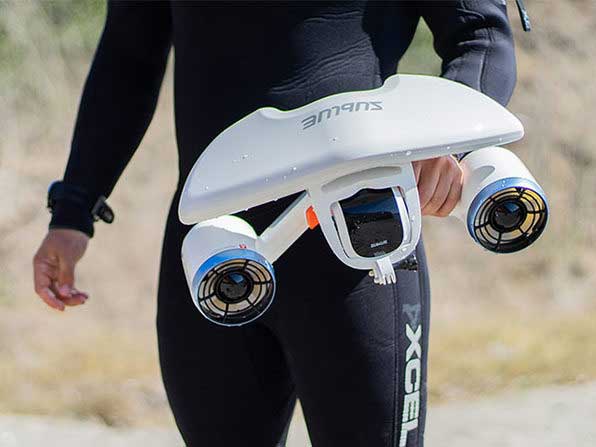 More details:
Glide through the water at speeds up to 3.35mph
Explore the water & reach depths up to 131 feet
Attach your own action cam & record your adventures w/ the built-in mount
Easily transport thanks to the lightweight & integrated design
Safely navigate the water at zero buoyancy w/ the included floater
Specs:
Color: Arctic white
Dimensions: 18.5″H x 10.6″L x 9.2″W
Speed: 3.35 miles/h (maximum)
Working depth: 131′ (limit depth)
Battery endurance: 30 minutes (normal usage)
Battery: 11000mAh
Universal action camera mount
Dual-propeller design
This stylish and versatile camera allows you to capture every moment, even the underwater ones. The camera is suitable for a host of situations, its an adventure camera so can be used to go underwater, mountain biking, hiking, pretty much any outdoor sports you can think of, as well as being an everyday life camera. The image resolution on this camera is 8MP/4MP Wide, it has wireless Bluetooth connectivity and its waterproof up to 20 feet.
More Details:
Waterproof in up to 20 feet of water
Minimizes shakiness even during the most strenuous physical activity
Works as the perfect selfie cam
Provides access to all buttons within reach
Designed to be small & ergonomic
Connects anywhere around the world via P2P connection
Includes an app w/ amazing features: camera control, story generator, live preview, video editing, social media sharing & more
We will keep you updated with any new underwater products we offer. With scuba diving becoming a popular hobby there is more demand for ways to enhance the experience, allow you to glide through the water, and also ways to capture the favourite moments on film.